Getting connected to Fibre can be a bit of a process. There are some key decisions to make along the way and some important things you should know. Here's the nuts and bolts of how it works. Firstly you may need consent for fibre installation if your are renting or if you live in a block of flats or manged residential estate. Next you'll meet your technician and plan where and how you want things installed. It helps if you plan ahead of the meeting with the broadband technician. Finally the engineer will turn up on the agreed date and do all the necessary works.
For a quick guide on how all this works view the video below provided by Chorus.
Depending on where you live a different fibre broadband company will install your fibre. Please view the map below for a guide of what company serves your area of the country.
Fibre broadband provider map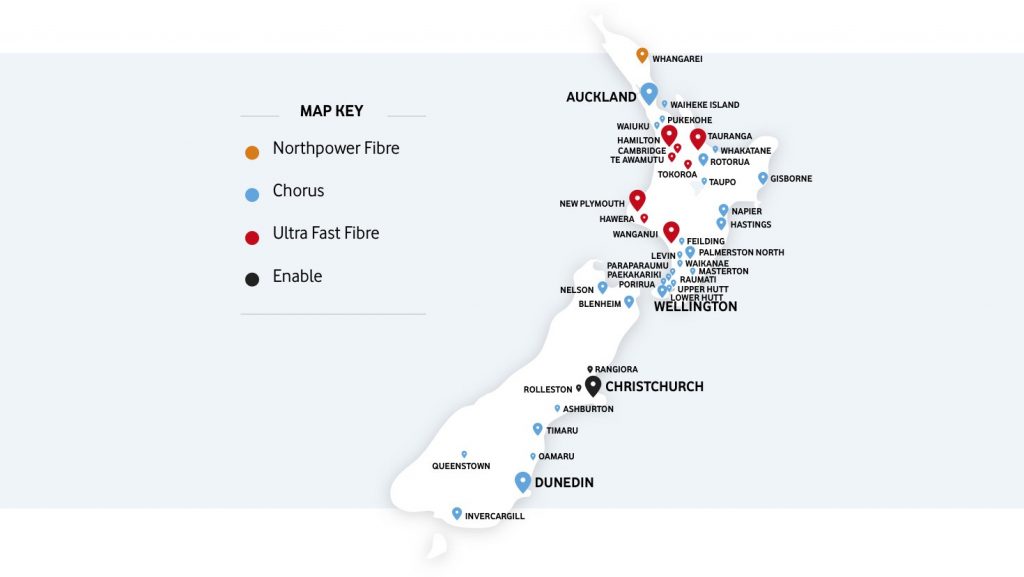 Before all this fibre need to have been laid down on your street by your local fibre company. Once fibre has been laid in your street, high speed broadband is at your fingertips. With a company like Chorus (which providers fibre to most of the country) The fibre installation process starts when you place an order for fibre with your broadband provider. Then, engineers begin the ABC process – ABC stands for agree, build and connect and is adopted by most fibre installers.
Agree
A technician will meet you at your home and together you agree on an installation plan. This can take 1 to 2 hours.
Build
Fibre broadband will be connected up to the outside of your house. You don't need to be home for this.
Connect
A technician will connect Fibre broadband inside your home. You'll need to be home. This can take up to 4 hours.
Non-standard installs
Please be aware that a more expensive non-standard installation may sometimes be necessary. These include driveways of over 200m long, gated communities, or apartments over three floors high. There's likely to be a cost if this applies to you.